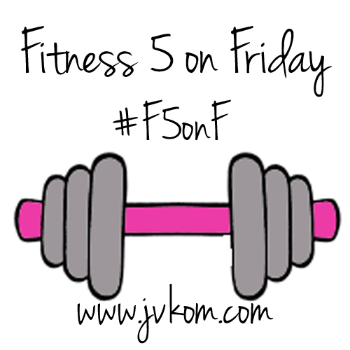 Im linking up with Jen again for Fitness Fridays. Im loving these link ups and challenges they keep me accountable :D

1. What is your least favorite exercise and why?
ABS even though I try to do an ab workout at least 3 times a week. After 2 c-sections my stomach muscles are pretty much worthless and doing abs is painful and then when I look down I see my mom kangaroo pouch and I immediately yell at my kids.. look what you did to me! Lol just kidding...I can say Im starting to see some definition and that kangaroo pouch is slowly going away. C-sections are a bitch, and ab workouts are too!
2. What is your resting heart beats per minute? (to calculate count your pulse for 15 seconds and multiply by 4)
Im a loser and can't find my pulse... am I dead?! Okay I found it on my neck and the number I got was 68... now Jen explain to me what this means LOL

3. Do you prefer to exercise alone or with company?
I'd love to have a workout buddy but have yet to find one. I invite but an excuse always gets in the way and aint nobody got time for dat!

4. What is your go to exercise outfit?
I really want all those cute razor backs with the awesome sayings on them and the cute shoes but hey broke mama here so I go with my skulls tank and pants.. I actually think its a PJ set from Walmart but Hello SKULLS I rock that shit!

5. Think about this time last year. Are you more or less active than you were a year ago?
More active, last year I was simply counting calories and going to a boxing class twice a week. Now Im working out at least 5 times a week and really seeing a difference. I weigh 6 lbs more than I did last year but at my lowest weight I had flab and was 'skinny fat' as I call it. Now I look more lean and tone! The number on the scale isn't everything ladies!